Your Inside Look at the Bluejack National Life — At This Tiger Woods Golf Course Land of Much More, Membership Certainly Has Its Privileges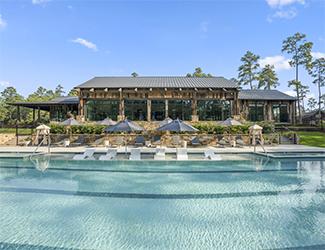 PaperCity: Your Inside Look at the Bluejack National Life — At This Tiger Woods Golf Course Land of Much More, Membership Certainly Has Its Privileges
A Retreat Unlike Anything Else In Texas
By: Shelby Hodge
Ah, the verdant serenity of Bluejack National. We've been hearing about the residential, private golf enclave in tree-shrouded Montgomery County with its Tiger Woods-designed course since its opening in 2016. Despite all the buzz, we were not prepared for the absolute allure of the 767 acre resort-like development encountered on a recent visit.
After checking in with the 24-hour security at the dramatic entry gate, we were met by our most congenial host Josh Governale, who in his golf cart led us to our accommodations. En route, we were taken in by the beautiful landscaping across undulating lawns, the carefully designed homes, the view to the Tiger Woods golf course (oh, my) and the sense that we were in a Rocky Mountain resort. For others, the pine-shaded development echoes of Augusta or Hilton Head's Sea Pines.
The aesthetic here is so far removed from Texas that one truly feels in another universe. A universe meticulously designed to create a sense of safety amid luxe community living. A place where kids ride their bicycles without supervision, where most traffic is by golf cart, and where all the resort amenities one could desire are in place.
The Bluejack Sanctuary
Newest to the continuing addition of amenities is The Sanctuary, a luxurious spa and wellness center that tops any country club for its sheer beauty and offering of services within an expansive 12,370 square feet. While our schedule did not allow for experiencing the massages or facials or a visit with the on-staff barbers and manicurists, we were impressed by the entire operation.
The lux men's and women's spa lounges, complete with honor bars, could have been taken straight from the pages of Architectural Digest.
Possibilities at The Sanctuary include getting in a work out in the lap pool or in the expansive fitness and gym area, finding your inner peace on the serene yoga lawn, or grabbing a light bite in the cafe which offers outdoor dining overlooking the pool, the cold plunge pool and the hot tub.
The spa is available exclusively to Bluejack members, with membership by invitation only, and their guests.