A Sense of Place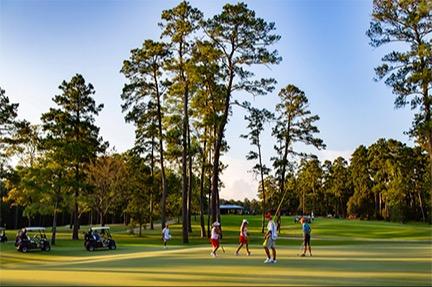 Located in the piney woods of north Houston is the expansive hideaway Bluejack National. Ranked #1 Residential Golf Course in Texas by USA TODAY's Golfweek, the opulent, residential resort community boasts a golf course, pool, spa, outdoor experiences, and more.
The central hub of Bluejack National is The Fort. This extraordinary residential community pool and fitness center is equipped with two swimming pools, a 150-foot water slide, and a water feature park – it is everything a family could dream of for hot summer days. And for cool summer nights, look no further than The Fort's bowling lanes, media room, game room, arts and crafts center, ice cream station, burger grill, and bar for fun-filled family evenings.
The spaces outside The Fort are equally entertaining. Community members can experience high-quality athletic areas, including a distinctive ballpark, football field, basketball court, pickleball courts, and tennis amenities. The true gem of Bluejack's outdoors is its large, central lake, perfect for canoeing and fishing.
In addition to what seems like limitless family fun, there's Bluejack National's award-winning golf course. The impressive course is not only Bluejack National's namesake but also the first and only golf course designed by golf legend Tiger Woods in the United States. This challenging 18-hole course is playable for golfers of all skill levels and hosts comfort stations, practice bays, and a shorter 10-hole course for developing players known as The Playground.
A rare gem for a residential community, The Sanctuary, currently under construction, is slated to be Bluejack National's ultimate retreat for well-being, balance, and a healthy, vibrant lifestyle. The space will focus on wellness utilizing nature and state-of-the-art spa amenities to evoke a sense of calm for the mind, heart, and body. Members will soon be able to enjoy massage treatments, a nail salon, barbershop, salt saunas, steam rooms, Jacuzzis, a heated lap pool, and a plunge pool. Once complete, the impressive new space will provide something for everyone.
With options ranging from affordable member suites to charming lake villas, there is no place like home at Bluejack National. For more information on these fantastic amenities and to think beyond the commonplace community living, visit bluejacknational.com.
Featured by Memorial Lifestyle Magazine
Author: Malena Jezek / June 2022